Am I Required to Surrender My Firearms if Accused of Domestic Violence?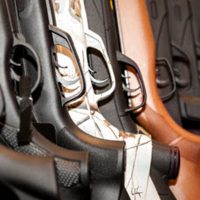 In Florida, those who have been accused of domestic violence face severe repercussions, including a loss of visitation with their children and the relinquishment of a shared residence. Another common requirement included in both temporary and permanent domestic violence injunctions, however, is the mandatory surrender of any firearms and ammunition on the part of the respondent. Individuals who fail to abide by these terms could face contempt proceedings and criminal charges, so if you have been accused of domestic violence or have already been issued an injunction, it is important to contact an experienced Seminole domestic violence lawyer who can walk you through your legal rights and obligations.
Surrendering Firearms
The surrender of firearms is mandatory in domestic violence cases, although courts do have the discretion to order their surrender in cases involving repeat, sexual, or dating violence. If ordered to surrender a firearm, a respondent must:
Take any firearms or ammunition in his or her possession to a sheriff's office;
Obtain a receipt of the weapons' surrender; and
File the receipt with the court.
Respondents who fail to take these steps can be charged with a first degree misdemeanor. It is important to note, however, that this requirement doesn't apply to active law enforcement officers who possess firearms for use in the performance of their jobs. However, this exception only applies to the specific firearm used in the performance of official duties, so courts are still permitted to provide limitations on the possession of any personal firearms owned by the respondent.
What Qualifies as a Firearm?
Florida law defines a firearm as any weapon that can, is designed to, or can be readily converted to expel a projectile via an explosive action, or:
The frame or receiver of such a weapon;
Any firearm muffler or silencer;
Any destructive device; or
Any machine gun.
It is important to note, however, that antique firearms do not fall under Florida's definition of a prohibited firearm, unless it was used in the commission of a crime.
Compliance
Upon the issuance of a domestic violence injunction, courts can require the respondent to attend compliance hearings to determine whether he or she has complied with the order. If, however, a person is in compliance with the order and can prove it through receipts or other evidence, the court can opt to cancel the hearing. Those who fail to comply with the order to surrender their firearms could be charged with a first degree misdemeanor, unless they have been accused of domestic violence in federal court, in which case, they could spend up to two years in prison.
It is also possible in some cases, after an injunction has been dismissed or has expired, for a respondent to collect his or her previously surrendered weapons. The procedures for doing so, however, vary depending on the circuit in which the court is located, making it especially important for those who find themselves in this situation, to speak with an attorney before proceeding.
Schedule an Initial Case Review Today
If you were recently accused of domestic violence and have questions about your rights and obligations, please call Reep Coleman & Stubbendorff at 727-330-6502 today.
Resource:
flcourts.org/content/download/403235/3457744/980d1.pdf
https://www.reeplawfirm.com/the-use-of-mediation-in-domestic-violence-injunction-cases/