Important Evidence When Building A Criminal Defense In Florida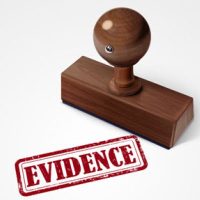 When facing any type of criminal charges in Pinellas County, one of the first things you need to do is get our experienced Seminole criminal attorney on your side. The best criminal defense begins early. After investigating the charges against you and the circumstances surrounding your arrest, we can immediately begin gathering the evidence needed to help prevent a criminal conviction. The following details some of the common types of evidence that can prove crucial in your case.
Evidence We Gather In Your Defense
In criminal proceedings held through the Pinellas County Criminal Court, one of the first things to happen is a process called discovery.  This is where each side discloses any evidence or other information that they intend to use in court. Seeing the evidence that police and prosecutors have gathered against you is crucial in your case. It helps in disputing your charges and informs the process of gathering evidence in your defense.
Evidence plays a role in legal negotiations with police and prosecutors, and can help in getting your charges reduced or dismissed. In the event your case does proceed to court, evidence presented before a judge or jury can help in creating reasonable doubt you committed a crime and prevent a conviction. The Florida Statutes dictate the types of evidence that can be presented in court and how it can be used either for or against you. This typically includes:
Real evidence: This is gathered at or near the crime scene. It may include items such as a gun, articles of clothing, vehicles allegedly used in commission of a crime, and other objects, such as discarded drugs, relevant to the case. Fingerprints, hairs, and other types of DNA may also be considered real evidence.
Digital evidence: With all the different types of technology at our disposal, digital evidence can play a crucial role in your criminal defense. It may include cell phone records, 'pings' from nearby towers, video or audio recordings, and surveillance footage gathered from nearby stores or traffic signals.
Documentary evidence: This consists of documents showing the actions leading up to a crime, what was going on when the crime occurred, or what happened after. It includes journal entries, receipts, records, letters, notes, contracts, or other types of paper evidence.
Demonstrative evidence: This helps to illustrate how a crime occurred and where alleged perpetrators where when it happened.
Testimonial evidence: This includes statements from police and other emergency responders, witnesses at the scene, family members of the victim, your own friends and family, anyone else involved, and crime reconstruction experts.
Get Our Pinellas County Criminal Attorney On Your Case
At The Reep Law Firm, we can gather the evidence needed to dispute criminal charges against you, helping you avoid the serious penalties associated with a conviction. However, when gathering evidence in criminal cases, it is important to act quickly. To get our Seminole criminal attorney working on your side, call or contact us online and request a consultation today.
Sources:
mypinellasclerk.org/Home/Criminal-Juvenile
httleg.state.fl.us/statutes/index.cfm?App_mode=Display_Statute&URL=0000-0099/0090/0090.html