Texting Threats Could Result In Felony Criminal Charges In Pinellas County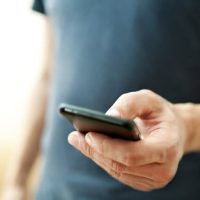 Smartphones make communicating with others more efficient, and many of us rely on texting rather than making calls on our devices. While this can be convenient, it can also lead to problems.
It is easy to say things via a text that you would otherwise not say in person. Once a text is sent, it can not be taken back and provides a record of the interaction. In the case of texted threats, this could result in serious felony criminal charges in Pinellas County. Our Seminole criminal attorney explains more about what is at stake.
Pinellas County Deputy Charged For Making Threatening Texts
According to a June 2023 WTSP News report, a deputy with the Pinellas County Sheriff's Department was recently relieved of duty and charged with a felony crime for sending threatening texts to his wife.
Apparently, the officer had accused his wife of infidelity and sent a text to her showing shooting range silhouettes with bullet holes in them. The deputy, who had been with the Sheriff's Office for 18 years, also insinuated threats against the person he accused her of having an affair with. He then sent a text to the woman's mother, saying, "Come get your daughter before I kill her." The Sheriff's Office was made aware of the situation and put the 31-year-old officer on administrative leave pending an investigation.
While on leave, the officer sent a threatening video he found online to the wife. It showed a couple engaged in sex and another man walking in, who then proceeded to stab them both. The woman in the video is presumed to have died as a result of her injuries. The officer then texted, "I just wanted you to see what some people do when that happens. There are crazy people in this world."
The officer's wife notified the authorities, and the deputy was arrested. He now faces felony charges and was forced to resign from his duties.
Penalties For Texted Threats Under The Florida Statutes 
Making any type of verbal, written, or texted threat is a serious matter and could result in criminal charges in Pinellas County. Under the Florida Statutes, it is illegal to do any of the following:
Maliciously threaten to cause harm to an individual;
Maliciously threaten to accuse them of criminal activities;
Maliciously threaten to take actions that could ruin their reputation;
Maliciously threaten to reveal otherwise secret information about them, which could expose them to ridicule or shame.
Making threats via text or other means is considered a second-degree felony crime. If convicted, you could face up to $10,000 in fines and up to a 15-year jail sentence.
Get The Strong Legal Defense You Need From Our Pinellas County Criminal Attorney
To avoid serious penalties for making texts or other types of threats, get the Reep Law Firm on your side. Our Seminole criminal attorney provides the strong legal defense you need. Call or contact us online today to request a consultation.
Sources:
wtsp.com/article/news/crime/pinellas-county-deputy-arrested-threats-kill-wife/67-9f6f6966-e859-4ae4-9866-aed17cbaba4b
leg.state.fl.us/Statutes/index.cfm?App_mode=Display_Statute&URL=0800-0899/0836/Sections/0836.05.html#:~:text=%E2%80%94Whoever%2C%20either%20verbally%20or%20by,or%20to%20expose%20any%20secret