10 Common Mistakes To Avoid When Getting A Divorce In Pinellas County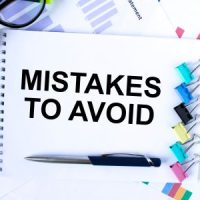 Going through a divorce is difficult. While this may be one of the most stressful times in your life, it is important to keep a clear head. Actions you take now can impact your well-being and financial health for years into the future. Our Seminole divorce lawyer explains ten common mistakes to avoid.
Not getting professional legal help. 
A do-it-yourself divorce may sound like a good way to save money. However, it is likely to cost you considerably more in the long run. While the Florida Courts offer self-help resources, they strongly recommend getting professional legal help.
Ignoring your lawyer's advice. 
Your lawyer will advise you on your rights under the Florida Statutes and recommend a specific course of action. Not taking their advice and failing to communicate or follow instructions could negatively impact the amount you get in any settlement.  
Making decisions in the heat of the moment. 
Emotions tend to run high in divorce proceedings. Avoid any spur-of-the-moment decisions or making agreements without your lawyer present.
Overlooking important assets. 
Make a thorough inventory of all marital assets, including homes, cars, household furnishings, personal items, money in bank accounts, online businesses, and retirement benefits. This helps ensure you get your fair share in any final divorce orders.
Failing to factor in future financial needs. 
Give careful consideration to how you will provide for yourself post-divorce. In some cases, alimony may be available.
Letting anger get the best of you.
Maintain decorum in Pinellas County Family Court proceedings. Angry outbursts reflect poorly on you and can result in serious legal penalties.
Posting about the situation on social media. 
Information poised on social media can be used against you in divorce proceedings. Limit what you share until after a final divorce order is issued.
Refusing to cooperate in mediation. 
Divorce mediation can save you time and money. It also protects your privacy by preventing you from having to share sensitive details in public court proceedings. Keeping an open mind throughout the process is to your benefit. 
Wanting to rush the process. 
Uncontested divorce cases may be resolved in as little as a few months. Complex or contested cases can take considerably longer. Be patient and avoid rushing the process.
Neglecting self-care.
 Divorce can be emotional and draining. Make time for basic self-care, such as eating properly and getting enough rest. Seek support from family and friends and do not hesitate to seek counseling, if needed.
Contact Our Pinellas County Divorce Lawyer Today
At the Reep Law Firm, we provide the caring support and professional legal representation you need when going through a divorce in Pinellas County. To protect your rights and obtain the best possible settlement, get our Seminole divorce lawyer on your side. Call or contact our office online today to request a consultation.
Sources:
flcourts.gov/Resources-Services/Office-of-Family-Courts/Family-Court-in-Florida/Family-Law-Forms?parentId=669505&sort=form/number%20asc,%20form/date%20desc&view=embed_custom&searchtype=form&limit=50&query=&offset=0
leg.state.fl.us/statutes/index.cfm?App_mode=Display_Statute&URL=0000-0099/0061/0061.html
mypinellasclerk.org/Home/Family