Distracted Driving A Leading Cause Of Car Accidents In Pinellas County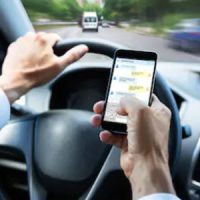 Multi-tasking is something many of us do both in our personal and professional lives. Juggling multiple responsibilities at once is a necessity in some cases, but it can prevent us from giving individual people and/or activities our full attention. This can be dangerous, particularly when behind the wheel. Distracted driving is one of the leading causes of car accidents in Seminole. Found out more about this common problem and how to reduce your risks.
April Was Distracted Driving Awareness Month 
April is Distracted Driving Awareness Month. The National Safety Council (NSC) teams up with federal, state, and local highway officials in encouraging drivers to pay more attention and to make them aware of the different types of distractions that could put them and others at risk.
Distracted driving involves any type of activity that causes you to take your eyes off the road, your hands off the steering wheel, or your mind off the important and complex task of driving. It includes:
Talking on cell phones;
Texting;
Checking emails;
Posting on social media;
Taking pictures or videos.
Texting and talking on cellphones or otherwise using handheld devices is a primary traffic offense under the Florida Statutes. However, any activity that diverts your attention from the road or what is going on around you increases car accident risks. This includes eating fast food and drinking coffee or soda while driving, changing GPS settings, reaching for items in the glove compartment or on the seat behind you, adjusting your appearance in the rearview mirror, or attempting to attend to children in the back seat.
Protect Yourself Against Distracted Driving Accidents In Florida
Distracted driving is a leading cause of personal injuries in Florida. According to the state Department of Highway Safety and Motor Vehicles (FLHSMV), more than 2,000 distracted driving car accidents in Pinellas County happen each year. This is in addition to distracted driving crashes involving trucks, motorcyclists, bicyclists, and pedestrians. To reduce your risks, follow these tips:
Keep your cell phone turned off or set to 'do not disturb' during trips;
Pull over if you are eating, need to adjust your appearance, or when consulting GPS maps;
Provide children with coloring books and snacks to keep them occupied before heading out;
Avoid being distracted by others in your vehicle;
Keep your eyes on the road, your hands on the steering wheel, and pay attention to what is going on around you at all times.
Our Seminole Car Accident Attorney Helps You Get The Compensation You Need To Recover 
Multi-tasking is an important skill but has no place behind the wheel. If you suffer personal injuries in Pinellas County due to the actions of a distracted driver, you have the right to hold them accountable.
At Reep Coleman & Stubbendorff, we have a reputation for providing clients with caring support and trusted legal representation. To request a consultation regarding how we can help you get compensation for your injuries, give us a call or contact our Seminole car accident lawyer online today.